Wedding, religious or not, are almost always a fun occasion, free drinks and lots of dancing and laughing. Of course there are exceptions, Jewish weddings do not have pork and shrimp, Muslim weddings have dancing but not by the guests and Christian weddings can sometimes drag on forever. Weddings are also something that is heavily inspired by religion costumes but have grown into a more cultural events – stemming out of their traditional religious roots and embracing different local traditions on top of the ancient religious ones.
The mayor of Nice in Southern France has decided that he, as well as many of the city's inhabitants had enough of the noisy craziness that follows a civil marriage in the town hall, French citizens can have a religious ceremony but they also need to have the formal day at town hall, some French people sign up and have a party – and some sign up and head to a much more elaborate religious ceremony. Some have combined the registration as wed couple and the traditional religious festivities and created a noisy festival that apparently repeats itself in Nice's town hall.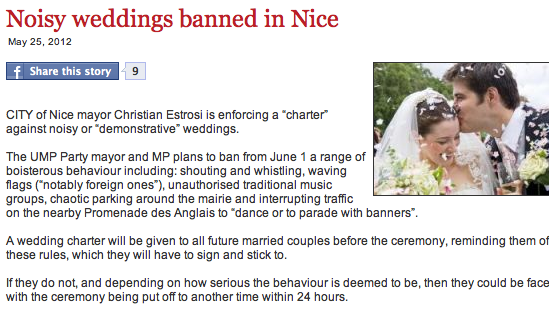 And so the city has come to be the first that simply bans the noise and the parades that follow some of those weddings, and to make things even worst it seems that many who does this are immigrants who also like to wave their own (original) national flags, making this typical French republic tradition a celebration of another nationally, the flags are banned as well.
In another corner of the world, Pakistan, 6 people who had too much fun in one wedding are now facing a death sentence by religious authorities, for (wait for it), dancing together – which is somehow such a terrible offense that it can only be made up for by blood – and lots of it.
Four men and two women have somehow gotten themselves on a cell phone video of them celebrating and dancing at a local wedding, which is strictly forbidden, the Pakistani seem to separate genders in weddings and prefer that both sides stick to their own kind as long as festivities last, the people involved have somehow decided that they want to change this stone age concept of weddings and mingled – now the men are on the run and the women, who have been not so lucky and remain in prison, can only take comfort that the sentence called for the killing of the men before the women, so as long as they are on the run the women have a chance at life.