A couple of days ago I saw this news item about someone in UNESCO being angry with the Israeli representative to that organization because a newspaper in Israel had published a cartoon that mentions something about bombing a UNESCO office in Ramallah, these kind of news do not really grab attention because someone being angry on Israel for being a democratic and free state is almost a daily thing in our world, however I saw a second mention of the same thing in another site, and now it seemed more interesting to report.

So what we have here is someone with a very poor sense of humor, and on top of it a complete lack of understanding of the Israeli free press, the paper that published this cartoon is a left wing, pro Palestine daily newspaper which is famous for its critic of the Israeli prime minister, who is the star of this cartoon. This cartoon mocks Netanyahu, presenting him as eager to attack Iran nuclear facilities and telling the combat pilots to attack a UNESCO office on the way back as response to UNESCO letting the Palestinians into their club.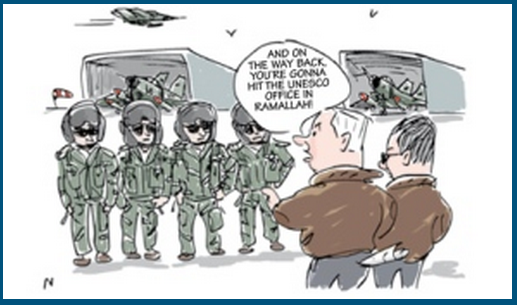 Now this makes headlines over the world, but Huffington Post went a step further, with a headline that shouts something about UNESCO angry on a cartoon showing Israeli planes bombing UNESCO office (that's the cartoon above, right here).
This whole thing combines into a nice mash of anti Israeli sentiments in the UN and over the press, making it look like even the mentioning of the state of Israel to UNESCO officials brings out an aggressive attitude, and mentioning it to the press imminently brings about thoughts of ultra aggressive military behavior. One thing is clear, keep this up and the Israelis will just abandon any diplomatic efforts of any kind.
Add to all of this the cartoon releated events in the last couple of years and you will find this to be the smallest of problems, when people got killed, UNESCO offices burned and personal murdered as well as the recent torching of a Paris based cartoon publisher and you should wonder how biased we have become.