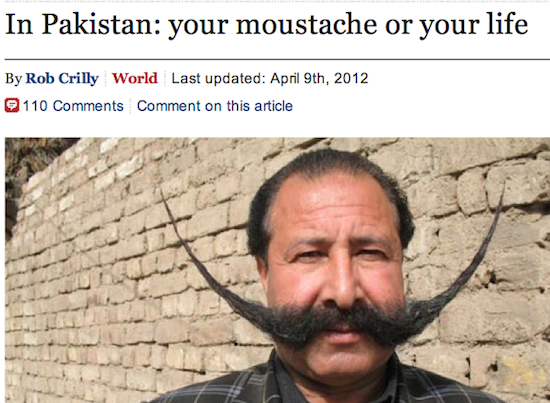 A Pakistani man discovered that his mustache could cost him his life, when he was abducted and instructed to trim his facial hair because it is offensive or against the rules of Islam. One would think that the religious zealots of Pakistan have better things to do then run around a look for people with fancy facial hair.
This is nothing but a very vivid example of how one religion (in this case Islam) takes over any and every aspect of life, from getting up in the morning till going to bed at night and from choosing the clothes you wear to the choices one makes on grooming ones facial hair Islam is a totalitarian complete instruction set order book for life.
In the west many like to debate the different interpretations of religions, however in this case it is not as refine as that, one religious cleric decides that a long or bushy mustache is not allowed under Islam and others are quick to find and execute his orders on real people in the real world. This is exactly why so many people around the world object to the religion of Islam – because it is of totalitarian origins, and if kept as it is will forever be totalitarian.