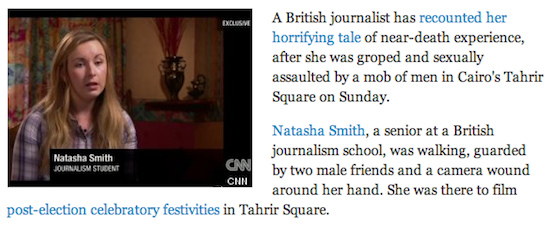 Once again the famous square in Cairo has celebration mixed with violent sexual assault that starts as rape and quickly turns into what all its victims see as an attempted murder, only to be saved by few brave souls that realized that the scene will end in bloody death if they do not intervene.
Natasha Smith, a journalism student, found herself being crowd raped by the happy attendants of the celebration of Egypt's new leader lawful election and its official change into a strict Islamic country with low levels of tolerance of any other ideology or faith. It is of no surprise that this thing happens – once again, in this square with this population, which considers an unmarried single non-muslim as free for all – up to the point that killing her is no big deal, because this had happened before, and now one really starts to wonder just how much of these things actually get out and published, it is very possible that we in the west get only a fraction of the rape and murder by frantic crowds numbers in Egypt or other Muslim countries.
With all the exposure the previous attack on female journalists in Tahrir square and the attack on Egyptian blogger Aliaa Magda el Mahdi in that same square, as well as the Caroline Sinz, a French report attacked at the same place you might expect a student of journalism to be aware of the dangers of such a place and especially in this state of mind, but this journalist decided that she should cover the Egyptian scene and, unfortunately, ended up like a few of her journalist friends.
It is a shame that Egypt can not step out of this darkness into the light, and that instead of marching forward is actually stepping back in time to embrace a fanatical religious identity, all that we can do is observe the deterioration of this society and execute caution when we get closer to it.