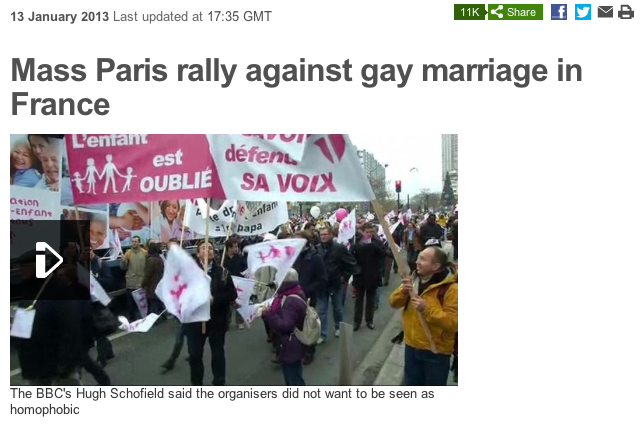 France, one of the most important counties in the history of the modern world, the strongest European country to support the American revolution and allow for the formation of the U.S.A. as we know it, and old world leader in popular revolution, has been slowly sinking into an old fashion style conservatism that is unbecoming its general style of  "liberte egalite fraternite".
Massive demonstrations, some of them very violent, of anti gay marriage notion has been held for over two months in the country, some of those demonstrations had only a couple dozens citizens, often departing form the local church or city hall, however in this last weekend the capital saw an overwhelming crowd of about 800,000 French come to show their concern about a potential future change in the marriage law in the country.
Unfortunately we live in a time in which it is not necessary to point out why people object so strongly to what others do in their own independent lives, very much like you would not have to explain the "laws" of slavery to an 18th century American land owner, so we will not get into that, we will only mention briefly that the crowd has many conflicting, sometimes even bitter enemies, leaders of the three main religions find themselves shoulder to shoulder, when on their everyday lives they sometimes preach intolerance towards each other. This is targeted mainly at the Muslim community, mainly in France, who is purposely keeping itself in closed confinements, avoiding contact with the local culture, only to go out and protest the natural progress of normal modern people.
This regression in the French thinking is also tied into the rise of the popular right wing parties, who are against anything non French, they also find themselves on this ground, with the same crowd they detest, a strange mix. How the French became so intolerable is a anthropological question, but the route we are now on is pretty clear, a country that is now deeply socialist wants to regress its personal freedoms into traditional, religious values, this is as close as you can get to the revival of national socialism, a nicer name for leather boots and concentration camps.
While we should not be insensitive towards any group, religious or not, the amount of respect we need to show people who are obsessed about controlling the lives of others, most of whom have absolutely no effect on the lives of the religious should be minimal. There is nothing wrong with traditional values and behavior, and religious people can do whatever they like in their own homes – just anyone else can – maybe they will understand that for once.