Looks like time is running out for Iran and its plans for nuclear weapons, the EU has declared it will put in effect an oil embargo if they Iranians do not come back to their senses. The European counters involved are not the largest consumers of Iranian oil, however this declaration brings tensions around Iran to a new peak.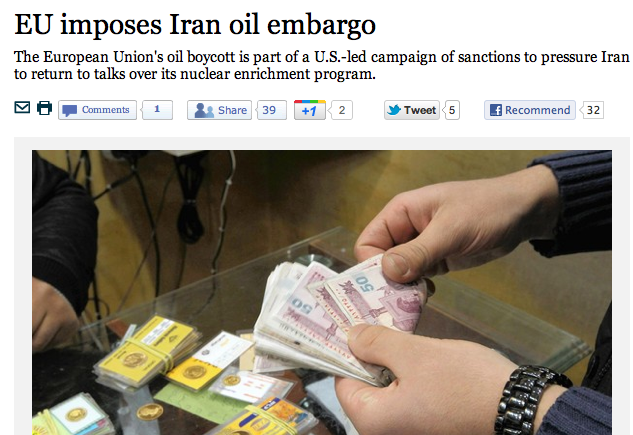 The average Iranian citizen must be going nuts by now, the local currency is dropping fast than ever, and people are stocking food and basic products for a coming war, it seems that everyone in the world does not now what the Iranian people know already, that this is not going to end on the negotiating table.
You should trust the Iranian (people, not the government) because they have been through enough to learn when something is real, and they know that the religious regime that is leading this country into a living catastrophe will not fold, defiantly not now, after it has managed to fool the entire world into giving more and more time to the development of nuclear capabilities, about 6 years now. The people know that the goal of having "the bomb" is not so much the destruction of Israel (however that might come in time) but the ability of using this winning card against all of Iran's neighbors in setting oil quotas and limiting competition.
So we have a strange situation where most of the pressure to go after Iran is currently produced by its Arab neighboring countries and not Israel, and a Europe that is starting to grasp the fact that one day soon they will have to wake up with the threat of Iranian nuclear weapons landing in Western Europe.
In the next post – "will they press the button?"