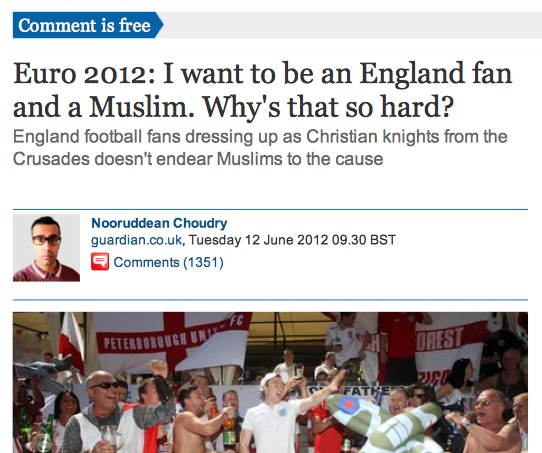 A quick look into "The Guardian" of yesterday introduced me to a new style of complaint from Muslims, it is almost magical how the evolution of Muslim taking offense at virtually anything has progressed over the years, to try and make things more simple – imagine that you are reading this not in the year 2012 but in, say, 1982, only 30 years ago this kind of text would produce mainly laughs and jokes at the expanse of its author, not now, now it seems that anyone who is not Islamic in Europe accepts the fact that it is the original inhabitants of the continent (and England) to please and avoid offense of Islamists at any and all costs. Well, not so.
Click the photo on top to read this confused and, at best, arrogant opinion column, of a person who thinks that in order for himself to feel comfortable to join in the ranks of the English supporters they whole idea of English football needs to change, because he finds some of those things they do offensive.
A few very important points show that the author is unaware (or is aware but pretends not to be) of many historical facts and moral grounds that should be pretty clear to anyone living in England today. The very first point is the crusades, the writer feels bad when he sees English supporters dressed as Christian knights, because that reminds him – actually that makes him think of (since he was not there in person) of the crusades – "The Crusades are romanticised in the west as heroic battles to win back the holy lands in the name of Christianity. But for Muslims they are remembered as two centuries of brutal and unprovoked attacks on Arab lands."
Please pay attention to "unprovoked attack on Arab lands" because this is the same claim Al-Queda lays to ownership of Spain and parts France, because they believe that anything that was once Muslim is forever Muslim (god told them so). Well, the Muslims invaded Jerusalem, a city build by Jews, a city that – for hundreds of years was exclusively Jewish only to be taken by the Romans and convert to Christianity along with the whole of the Roman empire. Only after hundreds of years of Jewish ownership it moved, by force, to Roman, turned Christian and moved into Muslim hands by invasion and force.
Christians who went to the Middle East to gain back a land were not occupiers of any sort, rather they were owners moving in on the aggressors to take back what belonged to them. According to the behavior of just about anyone at that time the march to Jerusalem was a bloody business, not only for Muslims but for Jews as well, however you never hear them complain about the crusades.
So Englad supporters remind you of how your ancestors occupied by force lands that did not belong to them and they had not built or nourished, and upsets you because of the mere resistance to your religions aggressive and violent nature? that is a shame indeed.
Here is another gem – "There's an irony in the fact that images of Polish supporters chanting antisemitic slogans and giving Nazi salutes have been met with such deserved outrage, but to brandish a sword and recall the brutal and bloody invasion of Muslim lands is portrayed as harmless banter". Polish supporters who embrace the Nazi ideology are idiots who do not know their own country history, Poland had suffered immensely by the hands of the Nazis, the first prisoners in Awschwits were Polish (non Jews) and the Nazi government set out to eliminate the whole upper social level of Poland's society.
The last bit – "I wonder how England supporters would react to scenes at the 2022 World Cup in Qatar, were masses of Arab fans to dress up in Saladin turbans and brandish Saracen swords emblazoned with Qu'ranic verse. I'm not sure it would be seen as friendly high jinx." – only time will tell, however it would not be a great surprise to find out that any females who plan to visit the warm climate country in the 2022 world cup would be celebrating in the stadiums with bikinis and shorts, or to see supporters sitting down for a bear at a corner pub. Of course these things will be instantly embraced as a positive thing, however have nothing to do with human rights or basic freedoms.
The fact is that the author of this text is simple not really English, he may hold an English (British) passport and live in the country, but he does not connect himself to the history and culture of that country, and he makes it worst by further embracing his religion and misconceptions about historical events (who are dictated by the religious narrative of this religion), this person has nothing to do with the real England supporters for he does not support England.