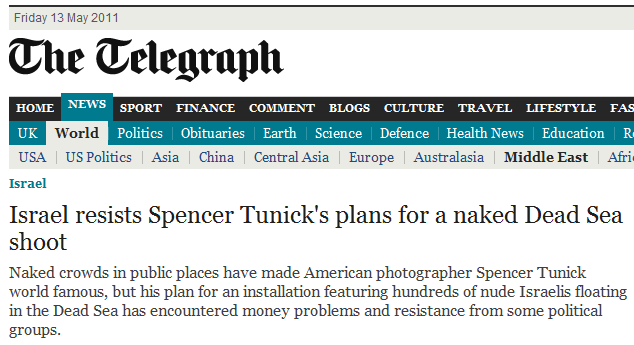 Everyones favorite nude photographer Spencer Tunick is trying to get one of his photos in the lowest place on earth – the dead sea. But since the dead sea is located within the boarders of the Jewish state of Israel he is meetin gstrong opposition from the parties of god in this country, who obviously think god did such a terrible job at desinging the look of the human body that can not tolerate any sight of naked skin, not even if they never actually see the image. The idea of having naked people running around the desert is too much to bare.
If Israel was a model country, in which all religious Jews would be an example to decency and high moral behavior I would say that could (maybe) make some sense, but we are talking about a country that has its former president waiting at home for his imprisonment for sexually attacking a couple of women who worked for him (not with him – for him), and that was chosen as president by the religious parties in Israel because he was observing the Shabbat and visiting temple on a regular basis. When this is the former president it is no wonder that a Rabbi who teaches at one of the smaller cities of the country has been arrases under heavy suspicion of raping a multitude of his boy pupils who did not report it simply because he was regarded so highly by everyone.
So I guess a small photo of a couple of dozens, or maybe a hundred naked people in the dead sea would really be the end of it, like they say – you first have the president (married, by the way) sexually assulting female workers and it ends with a couple of people getting naked for a photo shot in the dead sea, or maybe it should be the other way around?
In any case, no photos from the holy land yet.