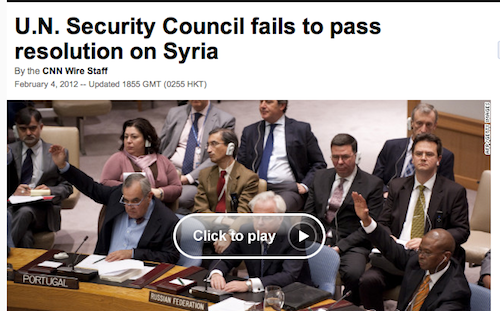 Word just got out, with the undying support of Russia and China the increased blood letting in Syria will go on, even the pathetic hand waving of the UN stale diplomats will not save the people of Syria.
It is almost tragic, that after months of killing and murder the UN finally allows itself to sit and discuss Syria, a day after nothing less than a massacre took place in one of the countries cities, it simply faces a veto call from two member states that seem not to be concerned with human suffering.
This is not the place to discuss the humane ideals of Russia and China, but it is well known and documented that these two seem to not care at all when its their own citizens who are being killed, and it only makes sense that Syrian blood matters even less.
One can only ask himself how would these two react if it was, say, Israel who would have bombarded – with proper army artillery, a Syrian village (or a Palestinian one), and why it is so clear that they would be among the first to cry out about it. Maybe it is not so much the Syrian government that has strong ties with these two governments, but rather the Iranian oil that calls the shots in Moscow and Beijing, and if it is so let us all hope that these two great nations wake to up take command of their decisions soon and not wait for it to be too late.