The soccer team Zamalek from Egypt Cairo is one of the largest in the Middle east, it is known for its rivalry with the other club from the same city Al Wahali, and it is also starting to make a name for itself for the uncompromising haters of Jews. If soccer fans are the voice of the people than this is one sound you better listen to, because it not only means things about the future relationship between Israel and Egypt, but also about the attitude of Arabs towards Jews, not towards just Israel.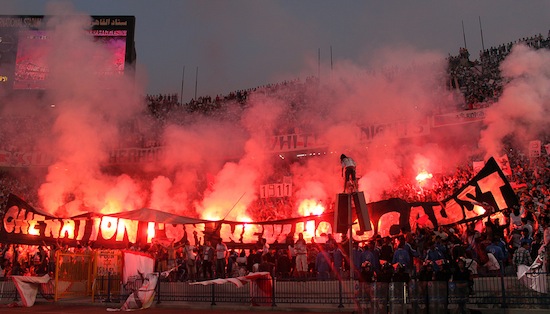 While many fans of this team create banners that pronounce their hatred of Israel with many different forms, it looks like many of them unit behind one clear message, which they take pride on, this message is "one nation for a new holocaust", if you are thinking that this is just a juvenile act of stupidity you are wrong, because these banners are all over this huge stadium and are very much an expression of what these people think that they want. Note that it does not say "Free Palestine" or "Better Lives for Palestinians" and it makes perfect sense that it does not say this.
The Egyptian fans of this particular club are not wealthy people, they do not express their wishes for someone else better life quality, all they are interested in is a new holocaust, meaning the extermination of anyone who was born to the Jewish faith. No Israel, and no bad Jews, simply all the Jews, wherever they may be, of any color or size, age or set of beliefs, shot them in the head and through them into ovens.
This is the word that comes out of Egypt as the Norwegians put their coats on to get out to the chilly Oslo street and pick a Nobel Peace Prize winner, probably one of the people leading that glorious Arab Spring revolution, that is now fast becoming the new fascistic, racist and hate mongering mobs of Egypt.