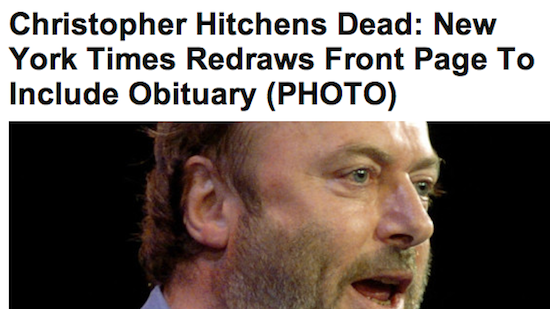 The New York Times redrew the printing of its front page, after news broke that legendary writer Christopher Hitchens had died Thursday night.
The New York Times told Poynter that the presses did not stop to include the story of Hitchen's death, as was originally reported by the Atlantic's Nicholas Jackson. According to Poynter, the story was confirmed before deadline and the front page was redrawn to "change the line-up of stories."
The Atlantic's Nicholas Jackson wrote early Friday morning that The New York Times redrew its front page to include news of Hitchen's death. Jackson wrote, "That is, the most influential newspaper in the world has put its work and printing process on hold to make room on the front page for the obituary of a single man."
Hitchens was diagnosed with esophageal cancer in the spring of 2010. He passed away late Thursday night from pneumonia, a complication of the esophageal cancer he had. Hitchens was named a contributing editor at Vanity Fair in 1992. He has authored two dozen books and wrote for publications such as The Nation, the Atlantic Monthly, Slate, Harper's, The Washington Post and The Huffington Post.
Read more here