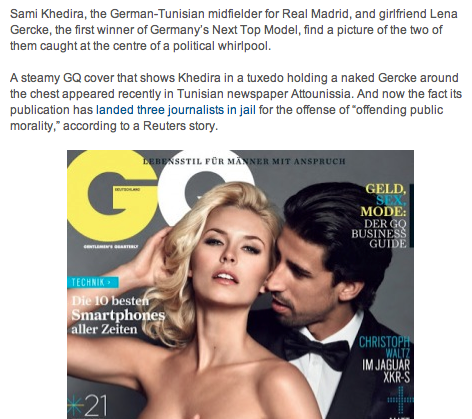 Here are some news of Tunisia, that country that started what was referred to as the "Arab Spring" and now looks much more like a fundamentalist winter. It is surprising that this article involves a high profile soccer player and his almost par-for-famous girlfriend, because these type of people are usually popular on the streets, however it is a good example to show how radical some countries have become.
So we learn that Real Madrid (soccer team) player Sami Khedira and his girlfriend Lena Gercke had a photo shot on some Tunisian magazine, with her nuked and him covering her private parts with his hands this was too much for some of the religious zealots of the country and they apparently kicked the journalists to prison for this poor little, not really provocative photo.
Now comes the good part, it looks like the people of Tunisia start to realize that the ones to take power are not exactly the liberal democratic front, rather more like the Muslim fundamentalists that took power in other countries across the region, and it does look like many are starting to fear walking into a political trap, they just changed the names of the dictators, but still live in a country in which there are no personal freedoms and that self expression should be avoided at all time for risk of imprisonment (or worst).