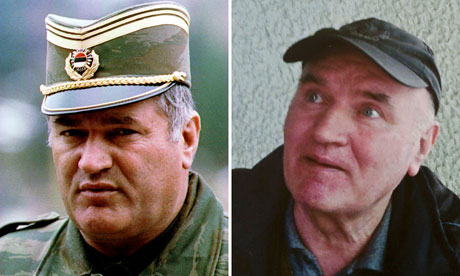 We did not forget, and we will not forget. 1992-1995 were the happy years of some of the Balkan's worst members of the human race, blood thirsty murderers that did not stop at anything, and if you are not old enough to know what I am talking about type the word "Sarajevo" into your Wiki search.
This monster of a man is responsible for the mass slaughters at Srebrenica and Zepa, bombarding of the city of Sarajevo with the clear purpose of killing as many people as possible, while most of the world stood and watched, just as the world does, and is still doing (surprised?).
And the twist in this post is that its the Serbian Orthodox Church that is the faith base of this insane killer, and that he is not (yet) convicted of his crimes, which will undoubtedly be called "patriotic acts of war" or something like that by his defenders, and why will they not be called that when you believe it is your god itself that wants you to ethnically cleanse the area of those who do not believe in him.
Naturally all other churches will claim that this is some perverse version of the religion of the one true god, and that the actual religions of the murderer and those he murdered did not matter all that much, but it will not be true. This guy killed Muslims, ones close enough for him to get his dirty hands on, Muslims all ages shapes and looks, and he did that because he had some code belief that they were so different to him and his people, and that morally he could do this.
The terrible thing here is that there is a feeling that this country is handing this guy over to play nice with the EU so they would let them in, so if the killing of 8,000 innocent people lets you in the EU I wonder if Turkey will dig up some of its mass murderers or maybe Syria will want to push for this number (its already like 2,000 killed) for added benefits.