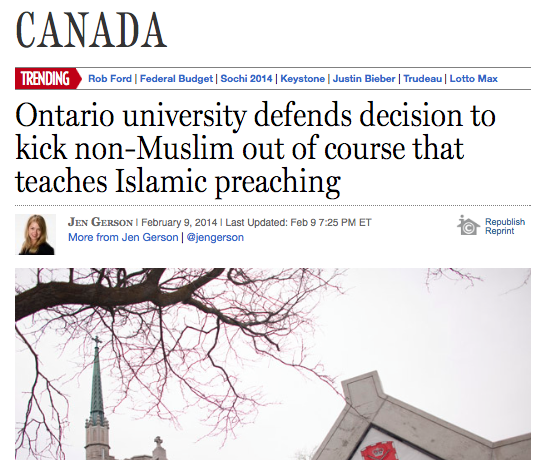 A very troubling piece of news right here, Canada – the enlightened and liberal country somehow gets this story credit to its name. It seems that a University in Ontario, the Huron College, a completely public educational institute, has a course that only Muslims are allowed to attend, in different words – non Muslims are not allowed to take a course at a university in Ontario, Canada.
Huron College is an indication of the state of mind many have, that on Muslim affairs only Muslims are allowed, this in sharp contrast to any Christian Jewish or Buddhist philosophy or other teachings, the college removed one non Muslim student from the course simply because he is not a Muslim.
There might be a simple way to look at this, a simplified perspective, a course on how to preach and teach Islam is for Muslims and a non-Muslim has no business learning that – some might say, however let us not forget that this course is given on a public university that is state sponsored and lives off tax money, so its services should be open for all. Furthermore it is a university, its purpose is to teach and expand knowledge, even for those who might not have the full ability or determination to put into action the material learned, so it is perfectly normal for anyone, of any religion – or of no religion at all to want to expand her or his knowledge of Islamic teachings and attend the course.
For some reason all of this very simple logic escapes the fine educators at Huron College, we can only imagine why.