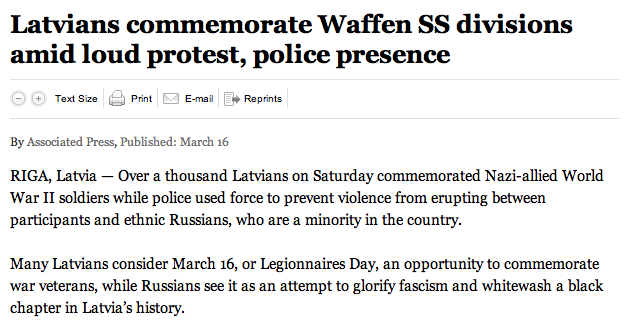 This is not a new story, many countries that were unfortunate enough to be located between the former Soviet Union and Nazi Germany suffer from the inability to celebrate World War II events properly, in some of the cases because their blunt cooperation with the Nazi regime was as close as you can get to being partners in crimes against humanity and in other cases because of the confusing battle against fascists on the one side and communists on the other.
This is somewhat the situation in Latvia, where war veterans seek the description that would make them as brave as they can possibly be and less tied into the old Fascist ways of Europe. The equation is simple, in the beginning they had to fight the soviets from taking over, after that the Nazis and in the end the many years of Soviet oppression, it is no surprise that most of all these people want to be less associated with the soviets than any other nation or political party, which draws them closer to the default… which is the Waffen SS.
Young Latvians were forced into recruiting into the Nazi armed forces, maybe a part went willingly but it is sure that most did not want to fight a war that had nothing to do with this country, or its ideology. However once in the ranks they did fight and die for the Nazi war monster, and some continued to fight the soviets after the war was over. Now these people have a day to commemorate their actions, on March 17th they march in memory of serving in other people's armies and dying for other nation causes – as demented as they could be.
This causes some reaction on the Russian side, because no one wants to see people who made battle against your country march and glorify that event, the few Russians available in Latvia protest against this march. What does actually leave us with? That in todays world it is more important to be a veteran than a war hero, what you fought for (or why you did that) counts much less and is of less concern to anyone, the only thing that matters is that nations are happy to sacrifice the facts and honesty for the glory and fake impression of old battles.
After all, if you have been to the game and suffered the injuries, why not tell everyone you played fair and won?