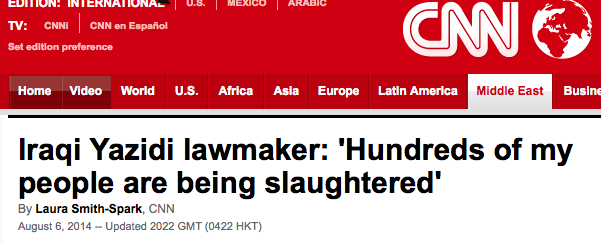 The Yazidis, an old and ancient religious community in Iraq sent a woman to beg for their lives in front of the national assembly of the Iraqi people. They are currently being butchered by the forces of Sonni Islam, ISIS, who is making its way through the Iraqi state.
The world is mostly indifferent, apart from a couple hundred people who marched in support of Christians (not Yazidis) in Brussels, as what the police calls a some "young" people shouted and cursed them as they passed (saying that all Christians should be killed).
The Yazidis are not as well prepared as the Kurds who are getting ready to face ISIS, they have been misled and misread the upcoming storm, now they are left for themselves – they are stranded in an area that would not support an life, so it is either they are killed by ISIS or die of hunger and dehydration.
If you need to do one thing today is to dedicated 2 and a half minutes to see this woman, desperately begging for the lives of basically everyone she knows, this is not the sexy Gaza Palestinians who during 30 days of active fighting had list an estimated 800 non combatants to what they called a "Genocide" attempt by Israel, the Yazdis do not get 3 Billion dollar annual support from Qatar, nor do they have the UN call an urgent meeting on their behalf, in the last week estimated are that up to 3,000 of them have been murdered – and more will follow if this is not stopped.