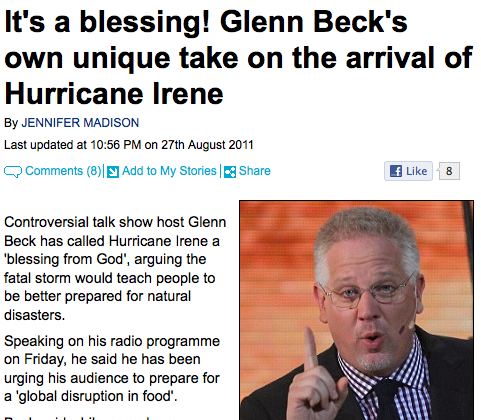 You might think that an atheist like myself would not like Glenn Beck, for all kinds of reasons, well, its not true, I do like the man and he does make some sense sometimes. But Mr. Beck has a taste for the over drama and those critical moment when all eyes are focused on one point, to make his statements and go way, way over the top.
So Glenn Beck used the coming hurricane to explain to people that it is a message and that we should all understand this message, or else. And that is exactly why I love the man, he reminds us, in one swift press conference, of time long gone. It has not been a good hundred years since anyone from the church had come out to warn the people that god is mighty upset with their actions and is sending messages before he starts making us pay.
Hurricane "Irene" ended up being downgraded into a mere tropical storm when hitting New York City, but this should not divert attention from Glenn Beck's warning and he efforts to get some more members in the church of latter day saints, who believe in an almost unblieveable collection of freaky versions to the old and new testaments, including Jesus's visit to the Americas. The system is the same as it was in history, fear and panic serve religions and they are used to pointing the finger and blaming us humans for being very, very bad.
But let us consider for a moment that in fact every day on this blue planet is a mini disaster (or an actual disaster if you compare to the actual damage of this last hurricane) with thousands of children dieing from disease, hunger and wars. Young adults are raped and killed by the hundreds, and millions of people suffer from extreme weather conditions around the world. If god is indeed trying to grab our attention it has been doing so, consistently, for a couple of decades now, only to see how many of us let go of this idea and turn to the reality of this life.