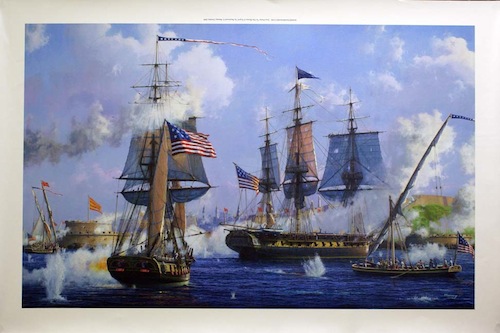 In 1801 the world was a different place, it was not connected by internet and phone lines, electricity was not available in most places on earth, news took a long time to travel and many of the countries we know today were very young or did not exist at all. The American nation was young and fragile, the nations of Europe were slowly moving into modern times and in the east a big empire ruled, one in which bribery and corruption marked the main pillars of government – the Ottoman Empire.
The world did not know of Zionism, the Jews were treated badly almost everywhere on earth, there was no state of Israel (and no real state of Palestine either by the way) but there was a ever lasting conflict between the Muslim world and the non Muslim world. Europe had taken back the land it lost to the Muslims but now had boarders with Muslim countries and needed to negotiate with them regularly. The U.S. had to learn the hard way.
According to Muslim law anyone who is not Muslim and passes through or lives in a country that is under the law of Islam should pay tribute, this is not only for the actual depletion of funds from non Muslims but also serves as a way to show that the non Muslim acknowledges the superiority of Islam. The tribute would be often paid by the non Muslim kneeling in front of the local officials, and would sometimes also have more elements of humiliation added to it.
People who could not pay the "Jizya" would have very limited options, mainly to become Muslim, to be killed as an infidel or to be treated like animals or objects, you can easily find Islamic religious leaders talking about how non Muslims should be treated in a Muslim land, which is generally "you can do whatever you want with the people or their possessions" type of an idea. If a non Muslim is found he or she (or them) can be sold as slaves in the markets, or killed on the spot, and according to the religious ones god does not have any problem with it whatsoever.
And so it was that in 1750-1800 approximately 1,5 million non Muslims (mainly Europeans and Americans) were captured on sea, near Muslim countries and taken as slaves, killed or converted forcefully. And so it was that counties like Tunisia and Algeria demanded and received tribute from the young United States of America, until one brave soul by the name of Thomas Jefferson (third president of the U.S.) put a stop to it and sent the U.S. Navy to crash this nasty habit of the Ottoman empire.
The American flag was raised in victory in another continent (outside of America) in that war, and it was in Libya, and the U.S. Marines Corps sing to this day a song about the Shores of Tripoli.
So there you have it, before any state of Israel was there, when Jews were spread out across the world and without any political and hardly any financial power, a struggle between Islamic nations and the West, based on the belief (and the explicit information in the Koran) that Muslims are superior and that anyone who is not a Muslim should surrender to Islam. This is where we are heading, regardless of what Israel does or does not do, regardless of the American foreign policy, and without Europe's political stands. History tends to repeat itself, I do not think it will make an exception this time.