There is a little Dutch boy that is speaking his mind, very load and very often. He is the Dutch boy that has his finger in the dike, but he is not alone, many of his fellow Dutch citizens are now joining him in doing just that, and separating racism and plain common sense in the Netherlands today. Some say it is too late, some believe it is never too late, and I strongly believe that wherever there are people around, no matter what religion they used to subscribe before – if they will be introduced to the idea of real freedom will follow it naturally – for it is a basic human need that was not oppressed for many hundreds of years by many types and kind of ruthless nobles, kings, politicians and fascists.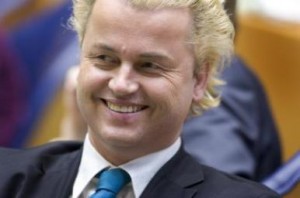 The little boys name is Geert Wilders, and he is most known for his strong opposition of Islam and its teachings, he almost always notes that he has no problem with people (Muslim or not) but that the ideology of Islam is a dangerous one, and even more, it is penetrating Europe from countries that are considerably less evolved (Mid East and Africa). Mr. Wilders claims that the liberal left had created a platform of an idea in which all societies are equal and should be treated in the same way, and he opposes this idea.
For it is clear that if thousands of people immigrate from one place to another that the place they are coming to has, at the very least in their eyes, much better conditions for them as well as a brighter and safer future for their children. If these people undergo great efforts and dangers to get out of the country in which they were born, to go and live in a different place, it must say something about that place that they are leaving. And we need not play guessing games, its clear that African and Mid Eastern countries do not have the advanced medical services, the liberal welfare state rules and the tolerant societies of the West.
If we were really equal we would have seen news items about young Christians, running drunk in the streets of some city in Saudi Arabia and setting a masque on fire, of Israeli Jews living in Tunisia raping 3 local Muslim girls after participating in a demonstration for charging the local prime minister with crimes against humanity. But we do not hear of these crimes, because they simply can not happen, not because police is so tight in those countries but because Christians are not allowed to be identified as such in Saudi Arabia, they can not drink because Islam forbids it, they can not pray because there are no Churches in this country, Israelis can not live in Arab countries (they can try but it would be brutal and short), Jews can not demonstrate and the local government does not support the idea that someone can publicly criticize any leader of the state.
We are not equal, and have not been so for a very long time.
Societies suffocated by the violent, crazed and maddened theories of Islam did not produce anything of significance to humanity. The oil they produce has not been discovered by Islam countries, the different things oil is used for have not been created by Muslims, they use drills and geologists that are not Muslim and have not been educated in Islamic countries, and once the well runs dry these ruling elite of these people will be in a very, very big problem.